'Place/Displace'
Jill Randall
Place/Displace
14 December 2013 – 8 March 2014
Jill Randall's work is firmly rooted in contemporary sculpture practice, making and materiality. Conceptually driven, her work incorporates sculpture, prints, video and drawings and often responds to a particular site or place. It also exploits the specific qualities of different materials – currently metals and found objects – often reusing materials invested with history and narrative through their past use.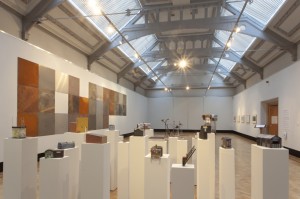 Her work questions notions of material value and reveals an interest in the unfinished and the incomplete, the broken and the damaged. Randall is also interested in exploring ideas around what is the minimum a sculpture can be made from.
Place/Displace draws together recent and new work focusing on place – work physically made in a specific place such as the wall-based sculpture 'Found Drawing, Irwell Series' and the video 'Eye of the River' or in response to specific places as in the 'Sheds of Rossendale' series.
The exhibition explores the importance of context in how we think about place and how when removed from its original context, it creates a disjuncture and we are forced to examine our sense of a place anew. Commissioned new work specific to and in response to Rochdale and the North West allows the chance to scrutinise familiar places and buildings in new way.
It is also an exhibition about the relationship of people to place, re-examining land and landscape, people and industry, the ethic of work and its affect on our lives.
Randall is drawn to post-industrial landscapes and sites of industry and has undertaken a number of residencies creating interventions in non-art situations such as at Parys Mountain Copper Mine in Anglesey, North Wales and the Magnesium Elektron factory, Salford. She is interested in the harnessing of this post-industrial legacy to create artworks and to use contemporary fine art as an alternative perspective on industrial heritage. Responding to the place and the people, a process the artist describes as "slow burn", often resulting in collaborative new works with the workforce and industrial processes. This work is often about reinventing and reinvesting the forgotten and neglected, revealing the underbelly of place and people.
This interest led Randall to undertake a research residency at Tate Britain's archives in 2012 to study the APG (Artist Placement Group). Between 1966 and the turn of the eighties, APG negotiated placements for artists lasting from a few weeks to several years with industry and government departments.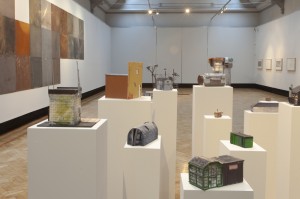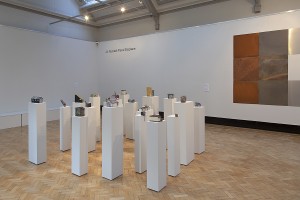 Randall lives and works in the Rossendale Valley and exhibits her work nationally and internationally. She is a Senior Lecturer on the B.A. Visual Arts course at the University of Salford, Leader of the Contemporary Fine Art & Public Engagement Research Centre in the School of Arts & Media and is a member of the European Sculpture Network.
Photography David Bennett