OPEN SPACES 800 Bocholt, Germany Sept 17th-27th 2021.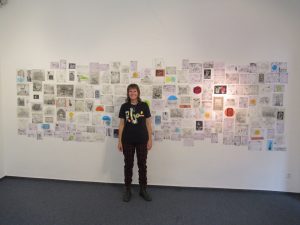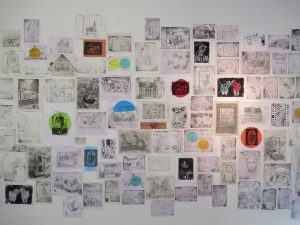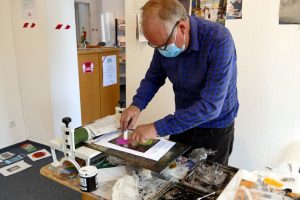 Jill and Alan were selected to take part in the  International Artists Residency, OPEN SPACES 800, Bocholt, Germany in September 2021. Jill and Alan recreated Alan's Print Studio in the Kunsthaus, (Art Gallery), Bocholt, over 10 days, inviting citizens of Bocholt to work with them, creating their own prints around the theme of Home, or 'Heimat'.
The Artists Studio formed an art installation in the gallery, as well as a working space set up both for the artists to create new work during the 10 days, and also involve members of the public and schools in the creation of prints .Over the 10 days, the work produced by both artists and project participants gradually filled a large wall of the Kunsthaus with fresh and exciting images in print of the buildings and special places of the city produced by its citizens and the artists.
Workshop participants were introduced to printmaking techniques such as etching on metallic card, and produced their prints from start to finish in the temporary studio. These were added to a growing wall of prints to be displayed on the Kunsthaus wall, and later in the TextilWerk Museum, Bocholt.